BSR & Tappa, the guinea pig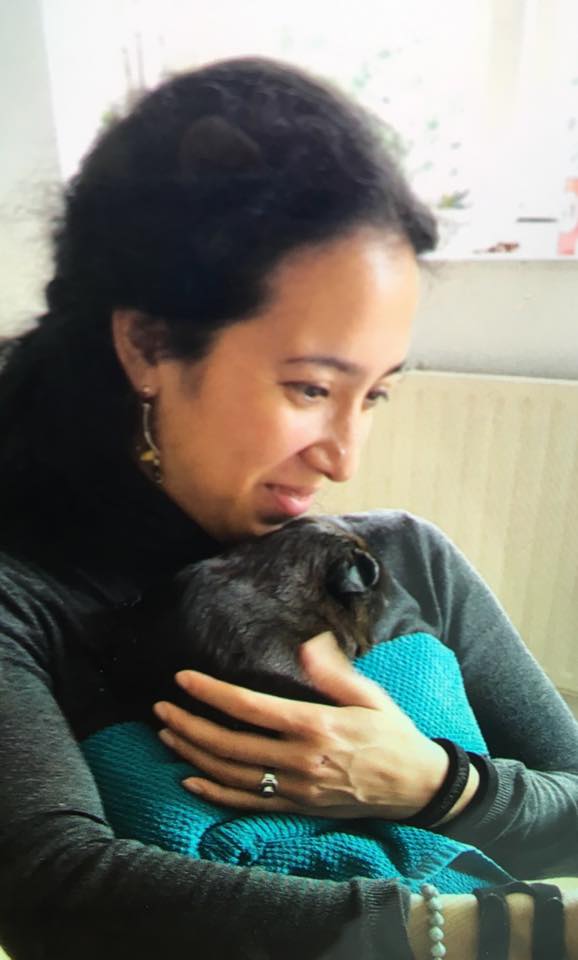 BSR & ANIMALS – Tappa the guinea pig
May 19th
Today Prune helped guinea pig Tappa whose jaw is obstructed on the left side. Because of that Tappa can not yawn or bite and eat all the things she loves. And that is ofcourse dramatic for this little animal that is so fond of eating. Even worse is that her left teeth grow in a wrong direction and that causes all kinds of trouble. During the time that Prune treated her she was completely relaxed and trusting which isn't her normal behavior with someone new. But animals sometimes do know at first sight that this is just good.
Prune had studied the anatomy of a guinea pig, knowns how sacrum, spine, neck and jaw are connected. Already in the first minutes Prune discovered where the obstructions are really situated. She worked along the tiny body, from sacrum to the jaw and at certain important points Tappa responded in a beautiful and hopeful way. After the first session she just slept and slept. Watching her closely every hour it looks as if she is more in one piece now and even stronger. Monday we'll see Prune again!
One week later:
Na twee behandelingen van Prune ging ik vanochtend met Tappa naar de dierenarts. De linker kiezen in haar mond waren weer scheef gegroeid en moesten bijgevijld worden. Prune had eerder ontdekt dat Tappa's staartbeen scheef stond waardoor er een kromming zat in haar ruggenwervel. En die vormde het directe probleem voor haar kaak. Na de tweede behandeling van Prune kwam er iets vrij bij haar nekwervels dat kennelijk jarenlang vast had gezeten. Een bijzondere ervaring om dat te zien. Tappa's kaakgewricht had opeens meer bewegingsruimte gekregen en daar was het dier zichtbaar blij mee. Vaak had ik met Tappa willen praten, en zeker op dat moment.
De dierenarts keek vanochtend verrast op toen hij voor de zoveelste keer in Tappa's mond keek. Er was daar duidelijk veel meer ruimte en beweeglijkheid gekomen. Ik vertelde over Body Stress Release (BSR) en over Prune. De nuchtere dierenarts die BSR niet kende, zei dat hij dan liever chiropractie zou kiezen bij een collega. Vanmiddag belde hij me op. Tappa was goed wakker geworden uit de narcose, ik kon haar komen ophalen. 'En', zei hij, 'ga maar weer gauw naar Prune want ik zie duidelijk verbetering bij Tappa. Die BSR doet het dier kennelijk erg goed.'
Begin dit jaar gaf hij haar nog weinig tijd van leven, nu ziet hij nieuwe kansen
?.
BSR helpt mens, en dier even goed, het eigen lichaam te laten herstellen waar opgebouwde stress voor problemen zorgt. Ik raad het iedereen van harte aan.
---
---