BSR & Hernia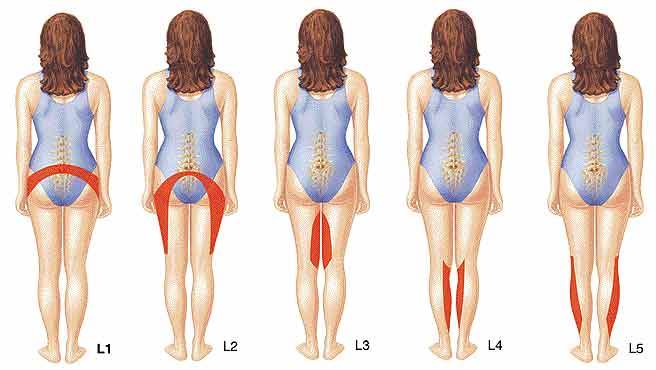 muscle tension and herniated discs
BSR & Herniated disc
Here is a very detailed and informed testimonial from Marjan H., a very committed person who was able to install profound and conscious changes to her posture and habits. This was written 2 years ago, since then Marjan went on several long bike-trail and the hernia seems to have resorbed entirely.
Body Stress Release helps!
In September 2015 I suffered from my upper leg. During the weeks and months after, the pain became increasingly intense, and tibia and buttocks also started to ache. Moreover, I got a lot of irritation in the leg. Nothing could alleviate the pain, neither physiotherapy nor orthomanual therapy.
I could not exercise anymore and also paracetamol and ibuprofen did not help. I could no longer turn around in bed, could not stretch the left leg and was crying from the pain and stiffness in the morning. Standing was a disaster. My range was very limited.
At the end of January 2016, an MRI indicated that I had a herniated disc at L5 level and two vertebrae above it an almost herniated disc in combination with a spinal canal narrowing. The pain in the leg, said the neurologist, was caused by the tightness of the nerve on L3 level. I was referred for a nerve block on the pain clinic.
I was desperate, not only because of the pain, but also that it was all lasting so long. Until I got a folder about BSR in De Bilt / Bilthoven. It took a while before I contacted Prune. BSR was completely unknown to me. I hope it is not some vague method, I thought. But a desperate person wants to get rid of the pain. And in February I called Prune. I was able to go quickly and made an appointment for three treatments, the first day, the fourth day and the eleventh day. Experience with this technique has been learned, Prune explained to me, that this succession works best and the body gets time to recover itself in the intervening period.
On 8 February I received my first treatment. And I did not even have to undress myself. A wonderful experience as Prune loosens the muscles, also the deeper muscles. Already after the first time something changed. There was pain and there were stimuli but there were also moments without pain and tinglings in the back and tinglings in other places. After the third treatment I could stretch my leg without pain, I could stand for a longer time, and I cancelled the appointment for the nerve block. In the meantime I suffered from my neck and shoulder, an old pain that I remembered from years ago, but that pain is also disappearing. Painkillers are no longer needed.
The results are so above expectations that I decide to continue, only the intermediate periods are longer. After the fourth treatment I will exercise very carefully again. It is now in early April, I have 6 treatments and I can shout, this time not from the pain, but because I have no pain! Okay, I'm not quite there yet but I feel that my body is recovering.
Prune is a fantastic practitioner. She is peaceful and brings peace to me. She is patient, explains everything very well, she tells which muscles cause the tension and that everyone's body is different. Someone else with a herniated disc may have other  muscles that are tensed and so Prune will work differently. She is energetic and also transmits that energy. BSR is a friendly method, gives the body the impulses in the right direction. By loosening the muscles, also the very deep layers of muscles. Even when the pain will be gone completely, I will go to Prune for a periodic maintenance of my body.
Below the original testimonial in dutch
Body Stress Release helpt!
In september 2015 kreeg ik last van mijn bovenbeen. Gedurende de weken en maanden daarna werd de pijn steeds heftiger, en gingen ook scheenbeen en billen pijn doen; bovendien kreeg ik veel last van prikkelingen in het been. Niets kon de pijn verlichten, noch fysiotherapie noch orthomanuele therapie. Ik kon niet meer sporten en ook paracetamol en ibuprofen hielp niet. Ik kon me niet meer omdraaien in bed, kon het linkerbeen niet strekken en kwam krom van de pijn en stijfheid smorgens uit bed. Staan was een ramp. Mijn actieradius werd heel beperkt.
Eind januari 2016 wees een MRI uit dat ik een hernia had op L5 nivo en twee wervels daarboven een bijna hernia in combinatie met een wervelkanaalvernauwing. De pijn in het been, zo vertelde de neuroloog, werd veroorzaakt door het knel zitten van de zenuw op L3 nivo. Ik werd verwezen voor een zenuwblokkade op de pijnpoli.
Ik was lichtelijk ten einde raad, van de pijn maar ook dat het allemaal zo lang bleef duren. Tot ik een folder kreeg over BSR in De Bilt / Bilthoven. Het duurde even voor ik contact opnam met Prune. BSR was mij volstrekt onbekend. Als het nu maar niet een of andere vage methode is, dacht ik. Maar een wanhopig mens wil graag van de pijn af. En in februari belde ik Prune. Ik kon snel terecht en maakte direct een afspraak voor drie behandelingen, de eerste dag, de vierde dag en de elfde dag. Ervaring met deze techniek heeft nl geleerd, zo legde Prune me uit, dat deze opvolging het best werkt en het lichaam in de tussenliggende periode tijd krijgt zelf te herstellen.
Op 8 februari kreeg ik m'n eerste behandeling. En tjee, ik hoefde me niet eens uit te kleden. Een wonderlijke ervaring zoals Prune de spieren losmaakt, ook de dieperliggende spieren. Al na de eerste keer veranderde er iets. Er was pijn en er waren prikkelingen maar er waren ook momenten zonder pijn en tintelingen en prikkelingen op andere plekken. Na de derde behandeling kon ik zonder pijn het been strekken, kon ik langer staan, en zei ik de afspraak voor de zenuwblokkade af. In de tussenperiode kreeg ik last van m'n nek en schouder, een oude pijn, die ik me herinnerde van jaren geleden, maar ook die pijn is aan het verdwijnen. Pijnstillers zijn niet meer nodig.
De resultaten zijn zo boven verwachting dat ik besluit door te gaan, alleen zijn de tussenliggende periodes langer. Na de vierde behandeling ga ik weer heel voorzichtig sporten. Het is nu begin april, ik heb 6 behandelingen gehad en ik kan wel jubelen, dit keer niet van de pijn, maar omdat ik geen pijn meer heb. Okay, ik ben er nog niet helemaal maar ik voel dat mijn lichaam zich herstelt.
Prune is een fantastische practitioner. Ze heeft rust en brengt rust. Is geduldig, legt alles erg goed uit, welke spieren opspelen en dat ieders lichaam anders is. Iemand met eenzelfde hernia kan andere vastzittende spieren hebben en dus gaat Prune dan ook anders te werk. Ze is energiek en brengt die energie ook over. BSR is een vriendelijke methode, geeft het lichaam een duwtje in de goede richting. En allemaal door de spieren, ook die heel diepliggende, los te maken. Ook als de pijn straks weg is, blijf ik naar Prune gaan voor een periodieke onderhoudsbeurt van mijn lijf.
Marjan H., 64.
---
---